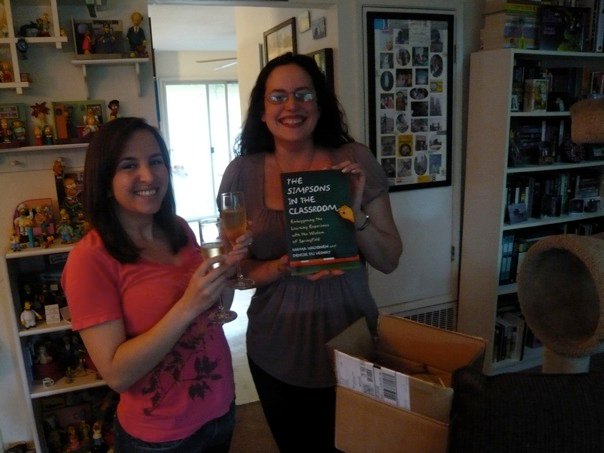 Last night, I was eating kalua pork and my roommate heard the doorbell. When I went to check, I found a small box and saw that the return address was McFarland.
I called my son into the living room–surely the book, The Simpsons in the Classroom (co-authored with Denise Du Vernay), was finally here. I got my knife and some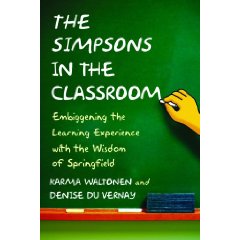 champagne.
It occured to me as I made the first incision that I might in fact be cutting into the cover of my book. Luckily, the packers anticipated this and thus a protective layer was the first thing I saw.
I handed the first copy to my son, and showed him the dedication. He hadn't known that I dedicated it to him. Of course, being a sixteen-year-old, he had to pretend that it wasn't the coolest thing ever, and he refused to smile in the photo we tried to take. It's a good thing he's wonderful in every other way.
A few minutes later, I finished my dinner and then headed out to a choral concert. Today, a few hours later, I will grade papers and prep my lectures for Monday and then head to a garden party.
Somewhere near my solar plexus, there's a small flame of excitement, and when I catch sight of my book on the coffee table, or when people mention it on Facebook, it flares up and fills my whole body for a second. I become giddy and amazed.
It's going to be interesting to see how long this high lasts.
I'm putting together a book launch event–stay tuned for details!
Custom Search