So this week, I packed my Zuul costume and too much eyeliner and headed down to Comic-Con. So did 149,999 other people (well, not the zuul part). I managed to make it out in time to get into preview night, where I saw my friends Scott Shaw and Lonnie Millsap. I was also able to talk to the artist for Kill Shakespeare (one of the writers, Anthony, is skyping in with my class this next Wednesday).
Then, on the way home, I was lured in to a downtown restaurant by a live rockabilly band.
So it was a good start. I won't give you a day by day play by play, as it's all a bit of a blur now, but here are the highlights.
1. Margaret Atwood was here for a Bradbury retrospective panel. Naturally, when she walked past me in the hall, I caught up to her to get a picture. I lovingly reminded her that I edit her journal and that I used to be her Society's president. I hoped she didn't think I was weird for being dressed as Death. I also completely ignored the two relatively famous authors with her, except for when I requested that they take our picture: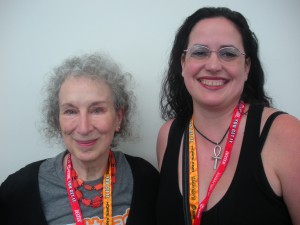 2. One of the times I wandered over to the Bongo booth (which I do once a day whenever they're near), Matt Groening was there! Now, I've met several Simpsons/Futurama people (and I love my Bongo guys), but I'd never met the big man. So I got Nathan Kane's (the new exec whom I'd just met the day before) attention and got him to take a picture of us. Nathan was very patient and Matt remembered something I'd left at the studio for him a year ago. I thanked him profusely for my entire academic career and successfully didn't wet myself.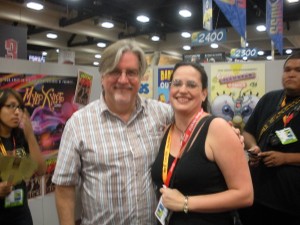 3. The Simpsons panel: Did I get to see the new Maggie short? Did I miss the Futurama panel due to the absurd line? Was Carrie Fisher briefly on stage? Yes. Yes. Yes.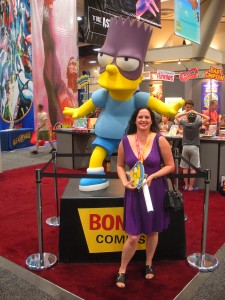 4. Zach was there! When I flipped through the program the first time, I didn't see Zach Weinersmith (of SMBC fame)'s name, but he was there! Zach has spoken to my class and to UCD at large. His work is hilarious, and it's always nice to see him. Alexander is going to be totally jealous (the sign says "hi, Alex")!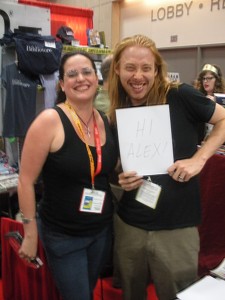 5. I got to see Joss Whedon! Okay–I'm not one for standing in lines, but I did get in line for The Simpsons and for Joss Whedon. I mean, I've given three different presentations this year on Joss's work, so I had to go. Joss is hilarious. He riffed on how he's his own favorite production company (he really gets what he's trying to do), threatened to murder some guy's family (after the guy said killing our favorites appeared to be Joss's thing), talked about being a girl who can't say no when it comes to projects (don't think anyone else in the room got the Oklahoma reference), complained about the lack of strong women in the media and female action figures all looking like porn stars, and asserted that our country was no longer about blue and red–it's about people who believe in the dignity of themselves and others and wackos who believe Jesus personally founded America.
6. I got to dress up. As Death: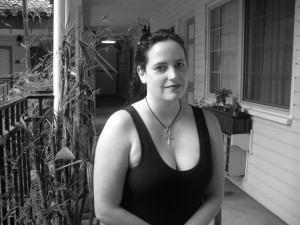 And as Zuul: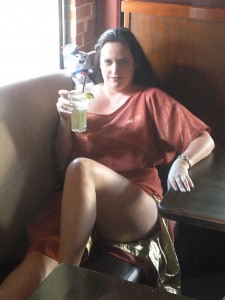 That guy totally tried to drink my margarita: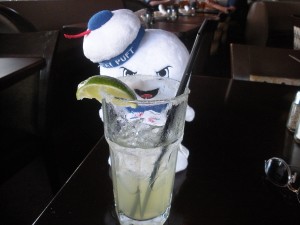 7. I got to be in the same room as the following people at some point (besides those I already mentioned): Joe Magtegna, Yeardley Smith, Romo Lampkin, Joe Hill, Kristin Bauer van Straten, Sarah Wayne Callies, Anna Torv, Lucy Lawless.
8. There were protestors! Yes, apparently people who love Jesus don't love Comic-Con. As someone dressed alternately as one of the Eternals and a Babylonian demi-god, I tried not to start a fight. I did, however, note to myself that there are people starving in San Diego right now who probably could have used some help if someone actually wanted to enact WWJD stuff.
9. Saw some awesome panels and things on the floor. The highlight, of course, was Scott Shaw's presentation of wonderful sex, drugs, and rocknroll covers. One example: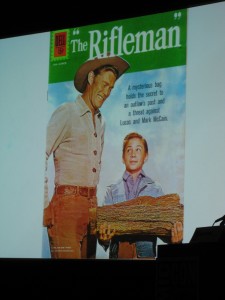 Our panel on Superman (my particular talk was on Mark Millar's Red Son) went well. One of the first people I met introduced himself as a Tea Party member and said we might not get along. I said that the text merely indicated that we needed to put aside ideology to find pragmatic solutions to our problems. He smiled and nodded, but left halfway through. The rest of the audience seemed to grok me, however.
10. People were in awesome costumes!