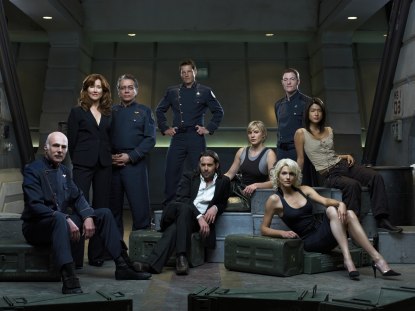 Courtney wrote a wonderful alternate ending to last night's BSG atrocity on Facebook.  I agree with her that there was too much spiritualism (any story that can be tied up with "angels" doesn't do it for me).
Adama is going to be a ghost of a man, talking to a buried woman. Lee is going to be an explorer (good for him). Angels are going to walk around worrying about our robots. Cylons will come out of comas to deliver good byes. God doesn't like being called God (which Biblically is his own problem since he won't give us his name). Frak!!!  The producers said we'd be surprised and satisfied with the ending. I'm surprised it was so bad. The only thing that satisfies me is that a certain person got her comeuppance.
Courtney also mentioned that the series seems to have lost the human/cylon distinction, although neither the humans nor the cylons seemed to get that. But if we are to believe the monotheist mythology that the show is apparently grounded in, both humans and cylons are "designed" by an intelligent force. And part of God's plan is to kill off 11 colonies and most of the cylons for . . . well, not sure. But we're supposed to be awed by it.
I'm not sure the show is doing what good sci fi is supposed to do, which is to make us think about what being human means. The "other" in sci fi is there to make us think about ourselves, to define ourselves. The cylons became completely us by the end of this. On the one hand, we can take that to mean that the "monster" is us–which is what most sci fi/fantasy/jungian-driven stuff implies–but the mythology is somehow getting in the way. Maybe it's that I feel that "God's plan" takes away too much free will. So what are cylons and humans? Just pawns in some cosmic game. Why even worry about the monsters and whether we are they?
Frak.
Here's my alternate ending:  Starbuck wakes up from a bad dream in a bed.  Her husband, Bobby Ewing, is in the shower, safe and sound. 
In other tv news, Breaking Bad is awesome; Nikki is getting caught for all her shit in Big Love. Family Guy took a swipe at The Simpsons last week (I hope the show takes it as a compliment).
And as for The Simpsons, the last episode bothered me. It was a Da Vinci Code-esque night. There were several fine jokes at the beginning, but The Simpsons, like BSG, got too religious. Lisa cracks a code–she thinks she is supposed to bring peace. She then is told that Maggie is actually the chosen one. While Lisa points out that the code only makes sense if Lisa messed it up first (which should bring doubt), the show ends in un-skeptically. It's not sitting well with me.
No wonder I can't frakkin' sleep.
Custom Search